BRAINS FROM ABROAD
Architect with a taste for waste (21.10.05, 08:36)
Cristian Suau takes an ecological approach to the world. That's why wood and waste are cornerstones in his ideas about architecture.
Post-doc Cristian Suau (35) suggests that we walk down to Skansen for our photo shoot. A prefabricated structure that he is particularly fond of stretches across the canal: it's a grey railway bridge inspired by the Strauss Bascule Bridge in Chicago, USA.
Cristian is intrigued by Trondheim as a town that during the last century has gone through a visible transformation from both an economic and architectural perspective. The curious Spaniard sees the potential here of combining design, technology and materials that we consider as waste in a new 'Centre for Potential Architecture'.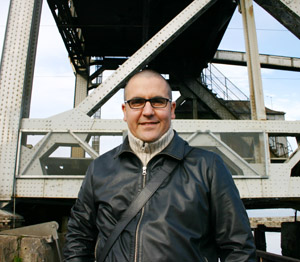 BRAIN GAIN FROM SPAIN: NTNU is a great platform for my research, Cristian Suau says.
Photo: Kenneth Stoltz

Prefab preferences
- My research spans two realms, Cristian tells us: prefabricated housing design and the reprogramming of public space.

- How did you come to be an architect?


- Artwork! I mean it is a dialectic reaction to reductive scientific research. As an architect, I deal with the complexity and scalability of space.

- How did you come to your current position?


- I met a couple of Norwegian colleagues in Spain and Holland and I also read some publications written about remarkable professors who had used passive solar energy in buildings and modern techniques using wood in architecture. I found an ad for NTNU published in the Swedish review journal 'Arkitektur' while I was doing research at Chalmers University of Technology in 2003, and now I'm here!

Ambitious goals
- What professional goals would you like to achieve? Can you achieve them at NTNU, or do you think you will have to go elsewhere to specialize further?


- Professionally, I am very happy with the research plan that I have here in Norway and Spain. I am fully focused on applied research (design patents), attending congresses and seminars in Europe and abroad, and collaborating in a doctoral programme in architecture at the Barcelona School of Architecture. In addition, I am continuing my professional work, mainly as a consultant and entering design competitions.

FAKTA

Profile
Cristian Suau's academic and professional architectural career began in 1994. He has worked in design studios in Europe and Latin America and has participated in several architectural competitions mainly concerning wooden architecture, housing design and the regeneration of potential public spaces.

He joined the Faculty of Architecture NTNU in 2004 as a postdoctoral research fellow. Suau has recently been guest researcher at School of Architecture, Chalmers University of Technology and he also collaborates with Barcelona School of Architecture, as lecturer in their doctorate programme 2004-2005.

The Architecture Department at NTNU suits me very well because of the regular and open discussions of the research process, including my own. When it comes to the question of further specialization, I am a very ambitious and curious person. Next term I'm hoping to find a way to combine my research knowledge with teaching. My new course is a workshop on minimum prefab systems, which I hope will be held both in Trondheim and Barcelona. For the moment my future plans include work on more design patents, as well as consulting projects and teaching at NTNU.

- Does your research group have specific goals to which you contribute ?


- Unfortunately I do not belong to any research group at NTNU. I'm a bit of an independent researcher, a little like Clint Eastwood, I guess! But if I were to describe my own goals for architectural education, I would say that research institutions should be far more open to European or Asian networks rather than just focussing on regional ones. In my opinion, NTNU's Faculty of Architecture ought to establish a centre for experimental research and focus on producing regular architectural publications, providing labs for 3D simulations and developing innovative building designs that use low and light technology.

I would also encourage an emphasis on progressive design research rather than a focus on the old methods of orthodox academia. I would call this effort something like 'The Centre for Potential Architecture', to show that the centre's work is focussed more on design for the world rather than the world of design. Aside from research, I guess that co-operation is a complementary idea with an ethical goal, to eliminate inequalities in social situations in our world. In short, we must demand research that is applied and practical.

Working at NTNU
- What does your ordinary work day look like?


- My ordinary work's recipe is based on the following ingredients: Fun. I love my work intensely, and I am always motivated and curious. Speed. My life is a bit frantic. I use and carry two laptops everywhere, with an external memory, because I travel a lot. My life is definitely nomadic and I live in the Any-where! Digital. I have severely limited use of the analog and the tactile in my daily life. Now I only test my samples with digital simulations.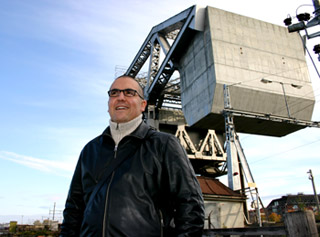 FAVOURITE BUILDING IN TRONDHEIM: The railway bridge in Skansen is an iron structure erected in 1918-19.
Photo: Kenneth Stoltz
- Does NTNU have an environment that fosters internal and external co-operation? Are there, in your opinion, relevant networks and infrastructures that connect NTNU to research groups and institutions abroad?
- Internal co-operation seems optimal. But the university's links to external network of researchers/research groups abroad seems discontinuous and dispersed. In talking with my colleagues, and especially young researchers at the Faculty of Architecture and Fine Arts, I have noticed that research in architecture is losing its leading role. There are latent themes and potential lines of investigation that should be channeled by the leaders in each department. Synergy, dialogue and leadership might be the antidotes.
- You have quite a lot of research experience from higher education throughout Europe. What is your opinion of the Norwegian educational system?

- At the undergraduate level, I have worked as guest instructor and lecturer in two workshops here at NTNU. Students are witty and open-minded. Nevertheless, some teachers need to be open to a more dynamic pedagogical approach, where teaching is not a vertical but a horizontal frame. I have noticed a kind of fear of criticising freely and making personal judgements. In the contemporary architectural world, we are experiencing a massive change and we can neither swim alone nor against the stream. It is also imperative that teaching be internationalised.
- How is your experience as a researcher at NTNU perceived on an international level in your specific discipline?

- Highly. NTNU is a great platform!
A place to cool off…
- What about your experiences with Norwegian culture? Was that a shock for a warm-blooded cosmopolite?

- Norwegian life seems to be an exception to life in the rest of the Western world. The ratio of work time to spare time is quite favourable. I have more time for thinking and contemplation, too. In southern Europe, the academic and professional life can be quite stressful and unsettling. There it keeps me fully awake and I use my time more functionally. Culturally, I cannot compare the urban worlds of Barcelona and Trondheim, they are simply way too different! But in the Nordic context, work in Trondheim is fun, and more enjoyable.
- Norwegian isn't considered the easiest language to learn, they say. Do you run into any language barriers in the course of everyday life?

- Learning Scandinavian languages is like learning 'double Dutch'. I am studying Norwegian little-by-little and mixing Swedish with Norwegian. It is a bit messy but it's also necessary to become better integrated. My colleagues at work are lovely and encourage me to learn their native tongue.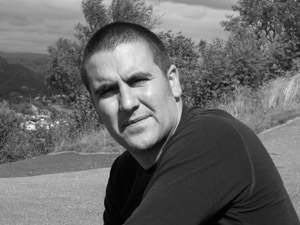 ALMODOVAR? He may look like a young Pedro Almodovar, but Cristian claims that the famous director is not the most interesting director in their beloved Barcelona.
Photo: Alex Hill
…and to chill out
- As an open-minded and somewhat extroverted global nomad, I take it you find socializing in Trondheim easy?
- I am a city animal, you know – I need contact with friends. My Trondheim friends are open, curious and supporting. I enjoy life here and like to share a pint or two with friends after work. Apart from enjoying the social aspects of bar hopping, and my enthusiasm for science, I am also interested in several sports. For instance, I like to go hiking and enjoy other outdoor activities. Swimming, rowing and kayaking are my favourites.
- What has surprised you the most about Trondheim during your stay here?

- Well, I must be the only Spanish research architect working at NTNU. What a surprise! I have also discovered that Mediterranean people are very similar abroad. I would never admit this back home! When it comes to Trondheim residents, I have found that they are quiet and reserved. In order to get to know each other and feel relaxed, we have to have a drink first. Afterwards we're friends. I guess the climate plays a role in shaping people as well as public spaces!
- Which leads us to an inevitable last question: how does a young nomadic architect from Almodovarian Barcelona deal with the climate close to the polar circle?

- Well, I feel happy to live in a port city, which doesn't have extreme temperatures. What I really hate is the darkness and the eternal rain, but I enjoy the 'snowscape', and the hotter seasons for sure. In short, my life here is wonderful.
Next week: "Down Memory Lane" with Francesca Sargolini, Centre for the Biology of Memory.