BRAINS FROM ABROAD:
Seductive programmer (30.11.05, 07:57)
Her computer lingo is absolutely impeccable. She's good looking, too. So what went wrong when Professor Letizia Jaccheri tried to seduce a program?
Pisa is the town of Galileo Galilei. The picturesque Tuscan town is also the place where Nobel price winner Enrico Fermi studied physics, and Fibonacci studied maths.
There is a street in Pisa, via Santa Maria – better known as the Italian Silicon Valley – where a great number of research institutions and companies are located. The first Italian computer was built here in the 1960s. Fascinated by the computer scientists who inhabited via Santa Maria, Letizia Jaccheri decided to become one herself.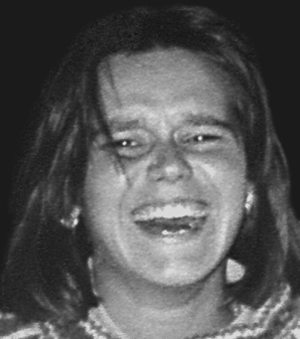 A TRANSLATION SHORTCUT/KORTSLUTNING:
- Communicating in three different languages at a time can produce some major misunderstandings, like when I wanted to seduce a program - "forføre et program" - instead of execute a program - "utføre et program". Hopefully the man-machine relation hasn't reached that point yet.

Rebel without a pause
Letizia was born into a Catholic, highly educated and ambitious family. Her father was a lawyer and she attended classical secondary school to follow in his footsteps. But eventually, the computer science pioneers in Pisa piqued her interest.
- I wanted to show that I was brave and independent, and to rebel a bit, she explains.

And it has been a successful rebellion, judging by the young Professor's extensive CV and publication list.

- How did you get your current job?
- I got in contact with NTH in 1989, when I was a programmer for a software company in Pisa. I had applied for a fellowship at the Italian Ministry of Foreign Affairs to spend one year abroad. Norway was among my preferences for three reasons: My supervisor Vincenzo Ambriola co-operated with Professor Reidar Conradi. I spoke German at the time and I imagined that in Norway they talked some kind of German. And finally, I loved to ski.

My family was and is very sporty and my sisters and I used to compete in regional ski competitions in Tuscany. I applied for this fellowship and one morning the fax machine at work started to produce pages of pages of text and pictures about Trondheim. At the other end was Professor Conradi, sending an invitation and a lot of information to me.

I spent a year and a half in Trondheim, then returned to Italy, got a PhD and a job as assistant professor. In 1995 I came to Norway to visit my Norwegian friends – and all of a sudden I married a Norwegian man, I had two children and I was a professor at NTNU!

- What is your field of research?
- I've been working in the software engineering field since my master thesis work in the late 1980s. My research spans questions like: how do people agree on what kind of software to make? How do the myriad of small text pieces interact to form software that governs airplanes and banks, hospitals, mobile phones and washing machines? Why do people spend their spare time working on open source software projects? How can we as software researchers and teachers benefit and interact with this open source world? In other words, I am a software engineer who focuses on software from a multi-disciplinary perspective.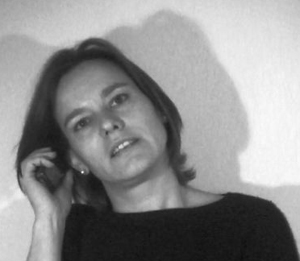 A HEART FOR ART...
- If electronic art with its software enters the public sphere, people will be able to reflect on software, and will be engaged in a dialogue on software that I will welcome, she says.

Art and software
- You are involved with the Trondheim Electronic Arts Centre on different projects. In what way is art related to your work?
- Art and its interplay with software have become more and more important for me. Artists work on open source projects, for example. They make their own programs and tools in their effort to control the tools they use to express their creativity.

Electronic artists are always curious about new research results. New media artists want a dialogue with us researchers, and I want a dialogue with them. Why? Because art helps to talk about things, to stop and reflect.

- What goals would you like to achieve professionally and personally?
- Personally I want to become stronger and look at the future with optimism. It's important not to stop laughing. At the same time I sometimes struggle with the urge to become nostalgic as an Italian emigrant.

Professionally, I simply do not want to give up trying to understand software research, the implication it has for us, students, industry, everything. Software research has evolved so quickly. Are we going to produce software in Europe and in Norway in ten years? What roles will our students play in ten years? I have to be able to give good answers when people ask about software, and be strong enough to admit that there are certain things that I don't know the answer to.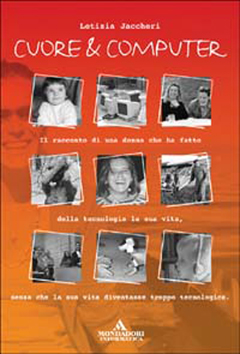 ...AND FOR COMPUTERS: Letizia's book Cuore&Computer has sold 3000 copies in Italy, and will be available in Norwegian, published by Tapir Academic Press next year. She is now looking for an English publisher.

- Do you work much on your own, or do you belong to a research group?
- I am part of a big group that has had international recognition. The group leader is Professor Conradi. I keep on talking about him as "my professor", even though I am a professor myself. The group has published quite a lot and has about 20 PhD students. We are part of a section, three groups working with software research issues. I do not believe that each of us young professors should build a pyramid of his own, but rather should reinforce each other in a network.

- How is your experience as a researcher at NTNU perceived on an international level in your specific discipline?
- Last year a young woman researcher at the institute, Parastoo Mohagheghi, received an award for best paper at the International Conference on Software Engineering. I have published papers myself in the two most prestigious international software engineering journals.

Many people in our group are very good at getting research projects started – both on a European and on a national level. So my impression is that NTNU has a good reputation internationally when it comes to software research.

Productive Professor
- What does your ordinary work day look like?
- I try to read and write a page each day. This tip came from an old Italian professor and it works for me. In the spring, on Wednesdays I have an Experts in team village. I spend the whole day with students and student assistants, trying not to talk and instead to listen to them most of the time. It is a different kind of day that I enjoy, because I learn a lot and get energy from the students.

Tidying my office and my files eats time, and so does updating my blog on art and IT. I read and answer e-mails from a couple of mailing lists, from international colleagues and friends.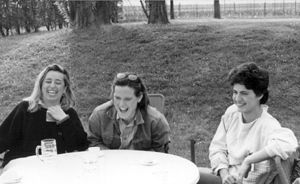 MISSING THE 80s: Letizia keeps in touch with her friends on Skype. It is possible that they discuss "their" decade, the eighties.

- Talking about papers; your publication list has an impressive number of articles, and you have written a book as well?
- Yes, my biggest satisfaction was the publication last year of a book called Cuore&Computer, which means heart and computer. It's written in Italian and deals with computer science evolution seen through my eyes and my experience. It is more like a novel than a research book, and I have sold nearly 3000 copies in Italy. I have translated the book into Norwegian and Tapir will publish it in 2006. We are not sure whether or not we will change the title in the Norwegian version.

- On your homepage I've counted 65 articles that you've published. Do you live in your office 24/7?
- No, not at all! I go home to my husband and kids at 4, never later. On the one hand I think I should focus more. I am aware that research is a systematic process. On the other hand, I follow my heart, too. Like this software and art passion. It is not easy to convince the department that it will bring results. But I have almost managed to employ a PhD student who will work full time on the theme.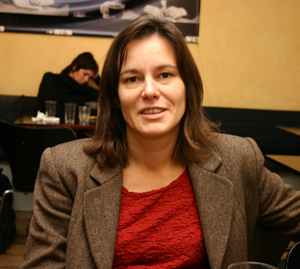 FAVOURITE CAFÉ Café 9 muser has a Pisan kind of ambiance to it, Letizia thinks. Her bilingual children prefers to go to Benito's, where the patron is always willing to sing, entertain and tell funny stories.

The inevitable nostalgia
- Having lived in Norway for some years, what is your impression of the country and of Norwegians?
- I was 24 years old when I first came here as a foreign student. I found a group of friends who are still my friends; some of them are professors now. They are maybe not typically Norwegian? Norwegians are obviously not the quarrelling kind. This is a strength, but can also be demotivating in some situations.

But even though there are differences, there are also similarities; in fact, I do not find Trondheim and Pisa all that different. Umberto Eco has written that in the modern world, differences result more from education and interests than borders. In spite of that, sometimes I feel very isolated even though my colleagues perceive me as a successful, integrated woman.

- Living abroad, do you miss something in particular in the South?
- When February comes I miss Tuscany, the flowers on the trees, and the yellow colour of the buildings in Pisa, so much that I start dreaming about colours at night. And of course I miss my family in Italy.

Because I visit them for just short periods of time, everything becomes superficial, or even artificial. If I should leave Norway I would miss the winter and the changing of seasons and colours. So I become nostalgic once in a while – but this is not in keeping with my plan.

- Which is?
- I want to spend my next sabbatical year in Firenze, and write a book about art seen through software or something like that. My ambition is also always to be a good supervisor and friend for my PhD students and colleagues.

FAKTA

Profile:


Born in Pisa, Italy, 24.2.1965.

Master's in Computer Science at the University of Pisa, 1988.

From May 1988 to August 1989, Letizia Jaccheri worked as a programmer at Tecsiel SPA, Pisa. She then took her PhD in Software Process Modelling and Evolution at Politecnico di Torino, Department of Computer and Control Engineering, 1993.

From January 1993 to June 1997 she was Assistant Professor at Politecnico di Torino.

From July 1997 to 2002: Associate professor, NTNU.

Since October 2002: Professor in Software engineering, Department of Computer and Information Science, NTNU.

Norwegianizing under primitive conditions
What do you like to do in your spare time?
- Being 40 years old, I have to attend a couple of training lessons at SATS if I want to have enough energy to run after children, go skiing and last but not least meet Italian friends on the beach in the summer.

Another big passion is reading, mainly novels by Italian writers, such as Andrea De Carlo. This year my husband and I rented a cabin in Meldal without electricity and water. Maybe this qualifies me for Norwegian citizenship? I can be very Italian, though.

- Is there a particular book you would recommend to Universitetsavisa's italophile readers?
- Due di due by De Carlo is very good. And one of the best new Italian novels is Io non ho paura, which means "I'm not afraid". It's written by Niccolò Ammaniti, and Gabriele Salvatores directed the film based on the book in 2003.

By Kenneth Stoltz


Next week: Associate Professor Indra de Soysa, Department of Sociology and Political Science