BRAINS FROM ABROAD:
Outlining the big picture (19.12.05, 06:58)
From his Dragvoll office, Indra de Soysa gives advice to decision-makers worldwide.
His books sell for $125 a copy and his articles are referred to by the world's political and economic elites. Yet despite the increasing academic recognition of his work, Associate Professor Indra de Soysa is a humble person, asking this journalist not to exaggerate his accomplishments - on his behalf.
Well, sorry Indra – it's a journalist's privilege, if not duty, to exaggerate a little bit. But then again, when you google Indra de Soysa, you quickly find his work cited on the websites of the World Bank, the United Nations Environment Programme, the International Monetary Fund, the UN, the OECD and the African Development Bank Group. I rest my case.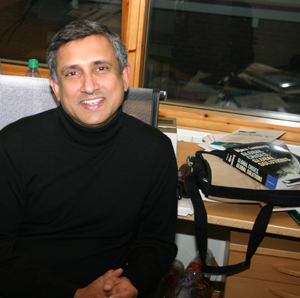 MUCH CITED: Indra tries to de-emphasize the fact that his analyses are cited in prestigious forums. But he admits he thinks it's flattering when students pick up what he has written and delve deeper into the issues.

Going global
Twenty years ago Indra de Soysa packed his bags and moved from Colombo in Sri Lanka to the University of Alabama in the United States. After completing an undergraduate degree in history, he went on to do a master's in US Diplomatic History. During a year away from his studies, he married to Ann Kristin from Ålesund, who he first met on the University of Alabama campus. Indra soon shifted his academic status as well, to Political Science, with a specialization in International Relations.

When he started his Ph.D. in 1993, he decided to specialize in International Political Economy. While writing his dissertation on the effects of Foreign Direct Investment on poor countries, he was awarded a scholarship to complete his writing at the Institute for Advanced Studies at the United Nations University in Tokyo. His work won the best dissertation award, a first for the Department of Political Science.

A part of his dissertation was published as an article in the American Sociological Review the subsequent year, and in 2003 Indra's entire dissertation with considerable additions was published as a book as part of the prestigious series Routledge Advances in International Political Economy.

That was also the year that the eloquent Sri Lankan joined forces with the staff at NTNU's Department of Sociology and Political Science, and became a considerable brain gain for NTNU. A Foreign Direct Investment of intellectual capital, one might say.

FAKTA

Profile:
• Born in Colombo, Sri Lanka in 1964.
• From 1985: Studies at the University of Alabama.
• Ph.D. Research Fellow, the United Nations University, Tokyo, 1996-1997.
• Ph.D. in Political Science, the University of Alabama, 1998.
• Senior Researcher, the International Peace Research Institute Oslo (PRIO), 1998-2000.
• Senior Research Fellow, Center for Development Research, University of Bonn, 2000-2003.
• Visiting Professor, University of Konstanz, 2002-2003.
• Since 2003: Associate Professor, Department of Sociology and Political Science, NTNU.

Abstracting the concrete
- How do you describe your current field of research?

- My field of research is international political economy, comparative politics and development. In other words, the kind of topics that fit well under what we discuss as globalization. More precisely: the effects of globalization on the economy and society.

- What brought you into academia?

- Curiosity. When you grow up in a country like Sri Lanka, questions of development, politics, causes of violence and such are all close to home. They are not abstract things as I suspect these things are for many of my students here. You grow up reading about things that are happening right next to you. Going to university I suppose was one way to get away and bring some perspective to the cacophony of life.

Some university subjects helped to satisfy certain curiosities but others perhaps added to the confusion. I felt that political science offered the focus that best suited what it was that I was curious about.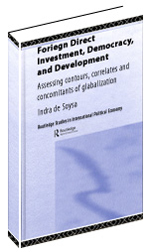 5.37 KRONER PER PAGE: If you want to have a peek at the literature that decision-makers read, you might be able to pick up the last copy of de Soysa's latest book at Tapir Dragvoll; it's yours for only 945 kroner.
- You have a broad range of research experience from institutions of higher education on three continents. How did you get your current job at NTNU?
- As I mentioned, my wife is Norwegian and I worked at the peace research institute in Oslo, PRIO, right after my Ph.D. Subsequently I went to work for the University of Bonn in Germany, where I led a research group on "Democracy, Rule of Law and Governance". This was a rewarding task for me; however, after 3 years there, my wife and I were ready to put down some roots after years of travel. Over the past decade we've lived in the USA, Japan, Oslo, Bonn and finally Trondheim.
Moving closer to Ann Kristin's family in Ålesund has become more and more important to us as the kids grow up. And we think a peaceful corner of the world like this is a good place for children to grow up, so we intend to stay here for a long time. The job at NTNU came up and I applied. It felt quite strange coming to an interview with Professor Ola Listhaug, who is a big name in my field of research, and whose work I had been reading as a graduate student.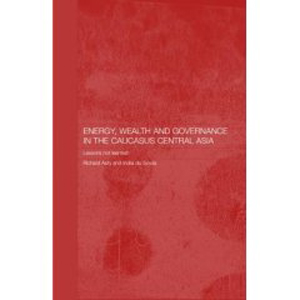 BOOK FORTHCOMING FROM ROUTLEDGE: Energy, Wealth and Governance in the Caucasus and Central Asia, edited by Indra de Soysa and Richard Auty.
Chinese edition
- Can you tell us about the books you have written?
- Well, Routledge published my book in 2003. It focuses on Foreign Direct Investment and economic growth, democracy and economic growth, and FDI and democracy. Routledge has actually sold out the first printing of 1500 copies, which is quite rare for an academic book. It is now on the second printing and is being translated into Chinese by a Taiwanese publisher.
I have a co-edited book on the problem of governing resource wealth with a focus on the Caspian Sea region, which is due to come out early next year, also from Routledge. Of course, as a political scientist today, books are less valuable than refereed journal articles, so that is what we concentrate mostly on today.
- What subjects are you concentrating on now?
- I am interested in the economic, political, and social effects of globalization. I also do quite a lot of work on causes of civil war, human rights violations, and good governance. Those who are interested in these questions are welcome to take a look at my publications and working papers on my website: http://www.svt.ntnu.no/iss/Indra.de.Soysa/card/
Exchanging VIP ideas
- What goals would you like to achieve in the future? Do you think these goals can be achieved at NTNU and Trondheim?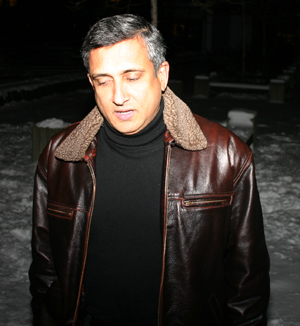 LINGUISTICALLY CHALLENGED: Indra looks thoughtful after his Norwegian language exam. The Trønder dialect is reputed to be among the more awkward ways of expressing oneself.

- In my opinion, NTNU is an excellent place for achieving the highest goals. The facilities and personnel are outstanding, not to mention the accessibility of resources. I am also attached to the Centre for the Study of Civil War at PRIO, which is one of the Centres of Excellence set up by the Research Council of Norway a few years ago, and NTNU's collaboration with such Norwegian institutions is a great opportunity.

- What are the goals for your research group – if you belong to one?

- I do belong to one very active research group made up largely of graduate students and some researchers and students from economics and geography. This group, which is called VIP or Violence, Institutions and Peace meets regularly, has many theses published, and is a great way for likeminded people to exchange ideas. Besides, the meetings help solve a lot of practical problems arising in our work. My goal for this particular group is to see that students get something out of it and progress professionally.

- Does NTNU have an environment that fosters internal and external co-operation? Are there, in your opinion, relevant networks and infrastructures that connect NTNU to research groups and institutions abroad?

- The environment for co-operation is very good. As mentioned earlier, I am glad I have the network that I do have. Not because it's fun, but because my associates are world-renowned and extremely good people to be around, professionally and personally.

- How is your experience as a researcher at NTNU perceived on an international level in your specific discipline?

- One aspect of globalization and today's communication technology – which is quite fascinating – is that from my office and from our department at Dragvoll, we have established and developed our international network. We're able to work in a stimulating and peaceful environment here, and still publish in top ranked journals like International Organization, the Journal of Peace Research, American Sociological Review, and World Development.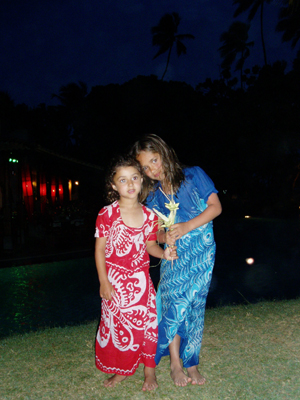 CHRISTMAS IN COLOMBO: The de Soysa family, here represented by the daughters Christiane (5) and Sooriya (8), is looking forward to a Christmas on the beach.
Anyone for cricket?
- What does an ordinary work day look like?
- Pretty routine, really. You have lots of work piled up; research, students, committee meetings, reading to catch up with, student theses to read, and you hope to eat away at some of the pile.
- Do you run into any language barriers at work, in organizing everyday life or in the information flow at NTNU? And is the culture in Norway very different from the other places you've lived and worked?
- Language barriers here are not as great as in Germany. The information flow is fine. It just requires a bit more work on my part. I feel that all universities and campus towns offer very similar things. Norwegian culture does take some getting used to, but it's not drastic. I have been married to a Norwegian for a long time already, so it can't be that difficult. However, when you grow up with cricket, it's hard to find a replacement in Trondheim!
- Do you have other interests outside the office?
- I spend most of the time at work and with my three girls. But the family has a close circle of friends and we socialize easily. It's not as easy here as in the USA or Germany, I'm afraid. Partly because it's bloody expensive to go out often!
- Is there anything in particular that you miss here in Norway? Food, culture, sun..?
- Naturally, I do miss all of the above. However, I do get to travel to meetings abroad quite regularly, so I get my fill of whatever I miss when I travel.
Next Portrait: Professor Duan Chen, Department of Cancer Research and Molecular Medicine