BRAINS FROM ABROAD:
Designing the new designers (3.2.06, 14:09)
As an associate professor in product design, a part of André Liem's work is to predict the kinds of non-technical expertise that will become increasingly important in the future.
Q: What do plastering, painting, built-in cabinets and floor tiles have to do with squash?
A: Nothing, really. But when André Liem at the Faculty of Engineering Science and Technology is not at work, you would most likely find him in the squash hall or at the department store OBS Bygg.
EMPHASIZING THE VALUE OF DESIGN: - Companies have to be educated to appreciate design. In Norway, the industry appreciates design as a "value-add", while in Singapore, it is still very much recognised as a "nice-to-have".
Cross-over competencies
- What is product design?
- Product design is multidisciplinary and requires cross-over competencies. I am most interested in the design process, design methodology, systems and strategic design. From a methodological perspective, there are four stages in the design and development process of a product: planning, designing, prototyping, and engineering.
In the planning stage, you must understand the market, marketing, design, engineering, and planning. Next, you need to be good at idea generation, creativity, aesthetics, sketching, drawing, and model making. You then have to make sophisticated prototypes of appearance models, operating models, mechanism models, et cetera. Finally, you reach the engineering stage, where specialized engineering knowledge and manufacturing is required.
FAKTA
Profile:
• Born in Madiun, Indonesia in 1969.
• Moved to the Netherlands at the age of four.
• Studies at the University of Delft, 1988-1994.
• Worked at Nanyang Polytechnic College, 1994-1999.
• 2000-2004: Fellow at the National University of Singapore.
• From 2005: Associate Professor at the Institute of Product Design, NTNU.
From Asia to Europe to Asia
- How did you focus your education on product design?
- In 1993 I went to the company Karrimor in the UK, to complete the master's degree I was taking in Industrial Design Engineering at TU Delft. I spent a year and a half in the UK, and made contacts with researchers at Loughborough University.
After finishing my studies in 1994, the European job market was down; there was quite a lot of unemployment in the UK and the Netherlands. I had worked for a little while at Bridgeport Machines in Leicester, and looked for opportunities in Asia, since I already knew some people in Singapore. So I packed my bags and went to Singapore to find a room.
I got a job at a German manufacturing company that made all kinds of locking systems, followed by five years as a teacher at Nanyang Polytechnic College. Then I saw a job that would challenge me at the National University, which had just started offering courses in industrial design. Industrial design is a very new field in Singapore, so I had to give courses on a large variety of subjects, and was more active in teaching than in research and development.
You can say it's just by coincidence that I ended up in design education. I have had an extremely rewarding ten years of experience in Asia at the National University of Singapore and Nanyang Polytechnic. I must say that my interest in design education has never stopped growing since I started.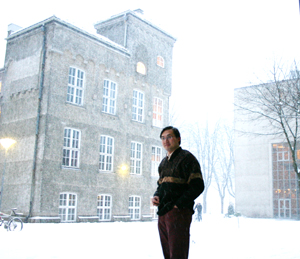 WINTER SCENE: - The snow is not a problem as Caroline has lived in the mid-western USA before. In fact, she says Trondheim is not as cold as Chicago. We don't miss the hot and humid weather of Singapore at all. As a matter of fact, we spend more time outside here than in Singapore.
From Singapore to NTNU Trondheim
- What subjects are you concentrating on now?
- The core courses I am teaching now are a Year-4 Studio Project on Strategic Design in conjunction with a number of Norwegian small and medium businesses, such as Stokke, Håg and Jordan; and a Year-2 Studio Project on Systems & Product Design.
The latest collaborative project was with Norway Post (Posten), in which we had an exhibition for the students at the Trondheim distribution centre in September, as well as an invitation to the Oslo headquarters in October last year. Selected product concepts are currently being further developed with contract manufacturers. I also teach a course to the second-year students on man-machine interaction (ergonomics).
- How did you get your current job at NTNU?
- I had been familiar with NTNU's reputation in Industrial Design for some time. There was also a student exchange agreement between the National University of Singapore and NTNU. I learned about the position from an advertisement on the Internet, and I applied, came to Trondheim for the interview, liked what I saw and experienced, and accepted the job offer.
- What does an ordinary work day look like?
- Mentoring students in a studio environment, and evaluating student progress through interim reports are important tasks. Discussing ideas with colleagues, reading and writing articles for conferences and journals takes time, too. In addition, I participate in initiating research projects and contact companies to establish other projects.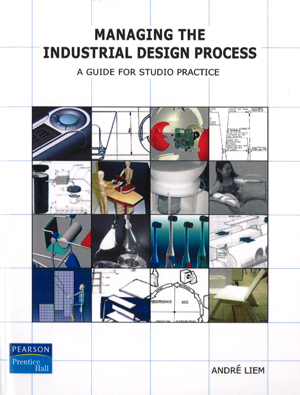 ANDRÉ THE AUTHOR: André's book Managing the industrial design process – a guide for studio practice was published by Pearson in 2004.
Scandinavian perspectives on design
- What goals would you like to achieve in the future? Do you think these goals can be achieved at NTNU and Trondheim?
- NTNU offers a challenging environment in which to develop excellence in the subjects I am teaching. I hope to make these subjects more relevant and more linked to industry needs. I would also like to use this opportunity to develop more integrated working relationships with Norwegian and Scandinavian companies to provide new perspectives.
These relationships are a valuable source of inspiration for design education and research. I would also like to further develop my expertise in the field of strategic design and design methodology.
I hope to be able to offer as well as gain new insights and experiences in teaching in a new environment, here in Norway/ Scandinavia, further to my experience in Singapore/ Asia. In time, I hope to document my knowledge and experiences in a series of monographs for teaching purposes.
Supportive industries in Norway
- Does NTNU have a good environment for internal and external co-operation? Are there, in your opinion, relevant networks and infrastructures that connect NTNU to research groups and institutions abroad?
- I have been with NTNU for a year now. I have had good experiences in terms of internal co-operation, and working with other departments, and the international office. The processes are relatively efficient.
Externally, co-operation with Norwegian small and medium-sized enterprises (SMEs) and SINTEF has been very encouraging. I feel that Norwegian industries are generous and supportive of design education, and many are open to experimentation and research.
- How is your experience as a researcher at NTNU perceived on an international level in your specific discipline?
- NTNU is increasingly being recognised in the field of industrial design engineering; however in the specific area of design methodology and strategic design, we still have many areas to explore.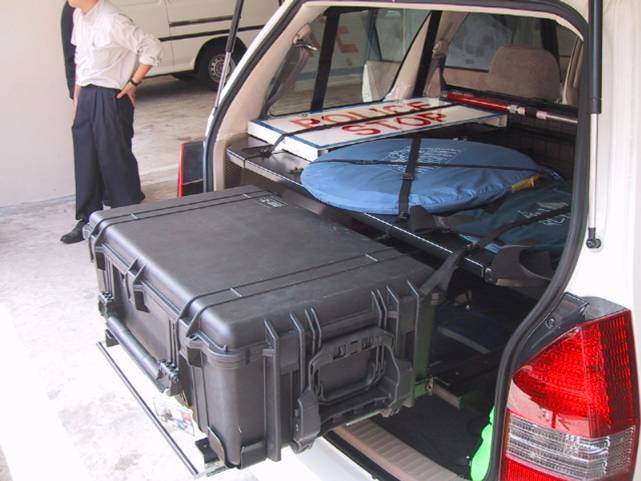 EQUIPPING POLICE CARS: - In my work at the university in Singapore, I would be given projects from the government and the police force – like this request to organize the interior space in rapid response vehicles.
In search of a design culture
- Do you find the culture in Norway very different from the other places you've lived and worked?
- Compared to Singapore, Norway is very much a part of the Scandinavian design culture, which has had a longer tradition. This has a profound influence on the design education environment. Industry appreciates design as a "value-add", while in Singapore, it is still very much recognised as a "nice-to-have". As a relative newcomer to this discipline, Singapore is still searching for its design culture, knitting together bits and pieces from European and American design trends.
At the workplace, Singapore is a relatively Westernised society and in that sense, the work culture is more individualistic but it also has certain Asian elements; for example, hierarchy is highly important. In Norway, I feel that there is much emphasis on working together, achieving consensus, and working together towards a common goal.
In terms of spare time, people in Norway appreciate nature and outdoor activities much more. Family life and free time is prioritised. In the island city-state of Singapore, there is a great deal of emphasis on good food, shopping, and perhaps golf, these days. Singapore has just recently introduced the five-day work week and also three-month maternity leave. Previously, many companies operated on Saturdays and working mothers enjoyed only two months maternity leave.
Getting the language right
- Have you run into any language barriers at work, in organizing everyday life or at NTNU?
- I started to learn Norwegian last January. At work, we used English was quite a lot at the beginning, but I am now able to speak simple Norwegian quite comfortably as well as read reasonably complicated text. Getting organised and getting things done was no problem at all, as my colleagues and students are all well versed in English.
It was also relatively easy to coordinate the renovation of my new home with my limited Norwegian. However, I am not able to understand dialects like Trøndersk, so very often I have to explain things several times to get my ideas and intentions across.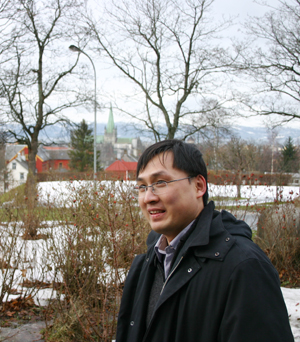 MORE SPACE, LESS PEOPLE: With its 682 km2, Singapore is twice as big as Trondheim, but a little more populated. There are close to 4.5 million inhabitants in the Asian metropole, while merely 170.000 people live in Norway's technological capital, Trondheim.
Ballroom beauties
- Do you have other interests outside the office?
- My wife, Caroline, is here with me in Trondheim and we do many things together like going for walks and taking dance lessons. She has a Bachelor of Honours in International Management and Financing, and is currently a full-time IFUS student at Dragvoll.
On a social basis, we interact with my colleagues, her course-mates, our neighbours, and members from the Trondheim Anglican Church. I must say we have been fortunate to have met many kind people here. In terms of interest, we love to travel. We would like to explore more of Scandinavia and perhaps Russia.
We also like to try out home renovation ideas, so some weekends are busy with shuttling back and forth to OBS Bygg. I myself like to play squash on a weekly basis and we are looking forward to go downhill skiing when there is enough snow.
- What has surprised you the most in Trondheim? Is there anything in particular that you miss? Food, culture, sun..?
- I am pleased that both my wife and I have settled in and adapted to life in Trondheim relatively easier than I expected. Trondheim is very different compared to a metropolis like Singapore, but it's also a very pleasant and lively city. You can do all that you want to do and buy all that you need to buy. The city also feels young with so many students. Motorists are very considerate and polite with even during the "little" peak hour traffic.
Here in Norway we cook mostly at home, unlike in Singapore. We can find most of the ingredients we want here, so it is not a problem. It's a change in lifestyle but certainly a healthier option to cook at home. In fact, I feel that there are many similarities between Dutch and Norwegian culture. Of course, it is a bit colder here but the landscape is certainly more beautiful.
It is nice to have a change of seasons, the long and short days. The sun will be back in the summer.