PEOPLE FROM POLAND
Brings daylight into house design (13.10.06, 12:00)
Puzzled by rainbows and mesmerized by reflections. Barbara Matusiak builds houses around daylight, and dreads the darkness of winter. The brightness of her expression outshines the sun of her daylight laboratory, and radiates from her work.
- I remember when I saw the rainbow for the first time. I was fascinated. Since then, I have always wanted to understand the natural environment, and to really know how such phenomena occur.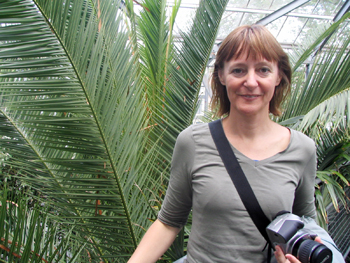 BARBARA is an avid phothographer. Her husband, Miroslaw Matusiak, took this photo of Barbara last summer, in Amsterdam.

Started with Lego
Barbara is an associate professor of architecture and has spent most of her life building houses and gardens. As a child, Barbara used wooden blocks and Lego, now she has her own daylight and room laboratories in Trondheim.

With an artificial sun and a cloudy sky if needed, the lab will help architects predict daylight conditions in their constructions. To Barbara, this is her own small world of light and shadow and prediction of visual phenomena.

It is her own experience with nature that is put into her work. She sees an abundance of colour, forms and shapes and uses it to create a living environment out of seemingly dead materials.

- It was always the phenomena connected to light that intrigued me the most as a child, the reflection of sunlight in water, and shadows cast by people or trees. I used to love playing with mirrors and other objects with shiny surfaces. I remember my astonishment when I discovered the design of snowflakes! The beauty of such a symmetrical radial structure was so impressive, she beams.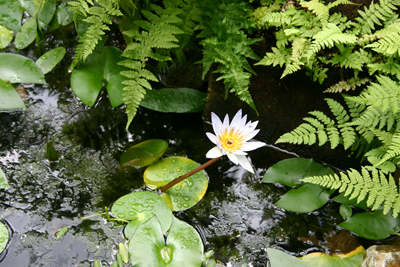 LIGHT AND SHADOW: This digital image was captured by Barbara herself.

No shiny path without shadows
Barbara was born in Lodz, an industrial city in central Poland with 800.000 inhabitants. She went to one of Poland's best schools, plotting the course for a scientific career early on. Her architectural degree is from Lodz, though her career has evolved in more arctic environments.

A seven-year stay with an architectural company in Oslo did not deter her from the harsher climate of the north. Her experience gradually taught her that the social climate of the Norwegian workplace is as different from Polish reality as the outside temperature.

Accustomed as she was to high demands and a rather derogatory tone in the workplace, the now ever present smile of her Norwegian colleagues made her curious.

It took a while before Barbara got used to the social atmosphere in her new place of employment.

- I was pretty surprised by your positive attitude towards life. When I first came to Oslo in the 80's, I quickly learned that focus was all about the positive things that may happen in the future. This was new to me. I was used to strong criticism in Poland, and it was of course nice to always meet a positive attitude, but the lack of criticism made me very insecure. After all, we all make mistakes. I really hadn't a clue as to what my colleagues and my boss thought of my work! They never spoke up and told me directly. After a while, I started to "get them", and understand their codes of behaviour, says Barbara.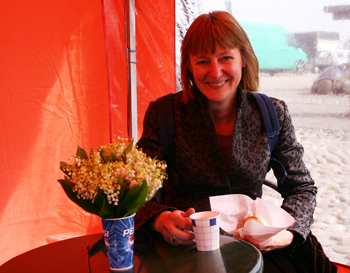 GLOBETROTTER: Barbara and her husband travel quite a lot. Last summer they also visited Helsinki. Photo Miroslaw Matusiak.

Seven year itch
- After seven years in Oslo, I developed an itch. I decided I wanted to get my PhD, and it had to be in Trondheim. I contacted Professor Øyvind Aschehoug and outlined the topic of my scientific project for him. He accepted me as his dr.ing (PhD) candidate, and helped med with all the necessary administrative procedures.

- It was also he that introduced me to the others who worked there. Most people kept to themselves, busy with their own projects, but gradually I felt accepted and liked by my colleagues. Contact grew closer, and these people are now good friends of mine. This is where my roots are now, she concludes.

Efficient and energetic
She has designed environmentally friendly schools and kindergartens. Bright solutions and innovative constructions are her trademarks.

She is not the shy kind, Barbara. New scientific projects constantly pop into her head and quite a few of them are put into life.

- My dream is to build an experimental building to show the possibilities for future technology. There is a strong focus on energy efficiency, which is good for the environment. The easiest way to achieve this is to isolate well, and install smaller windows. This will, however, dramatically reduce the level of daylight inside buildings.

- We spend 90 percent of the day indoors and we really need the daylight for our health and well-being. Building energy-efficient buildings that still allow us a high level of daylight is a challenge, but I believe it is possible to develop a theoretical basis to achieve this goal at NTNU.

- Oh, and maybe I'll write a book, she adds.

Her days are as varied as the weather. She has seen the light - not metaphorically speaking - in many laboratories around the world, and spent hours on simulating lighting conditions on her computer.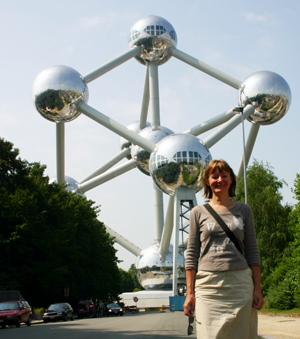 ...and Brussels. Photo Miroslaw Matusiak.

Low energy design
- The research group I feel the strongest connection with, are the scientists at Sintef Architecture and Building Technology. We are working on passive and low-energy designs. The objective is to increase knowledge in the field of energy efficiency in buildings. Light is only one of the relevant topics.

- Another group is "LYSFORSK". We work strictly on light-related topics. The scientific discussions we have every two months or so, have yielded a plan. A new master's degree programme may actually see the light of day, ha ha, here at NTNU. We call it light design, she laughs.

More than ten years at NTNU has helped her grow roots, and settled her well. She has two sons and a daughter. One of her sons is already enrolled at NTNU, the daughter is on her way to follow the path.

She is an avid consumer of culture. Concert halls, cinemas and theatres are often visited. For years, her favourite place has been Olavskvartalet.

- This is partly because of the concert hall, and partly because of the music school where my children went. Actually, the whole city centre of Trondheim has a very nice atmosphere because of its human scale, wooden buildings, and many inviting places like Dromedar Café, she muses.

Seduced by Aurora?
The dark season is approaching. Crisp air and sun reflections in bright white snow that recede into grey heaviness at the mere blink of an eye.

- Do you enjoy the winter half of the year?

- I do look forward to the snow in Bymarka, but not to the darkness, she says. - The darkness in winter is the most negative thing I know about Trondheim.

Surely, the absence of daylight has an impact on the lightness of Barbara's mood, but has the Aurora Borealis had the seductive effect promised by the folk tales?

- I have seen Aurora a couple of times, each time having different shape and slightly different colour, always in motion. The Aurora Borealis is not as nice and peaceful as the rainbow. It is powerful, almost frightening. The constant movement of the Aurora is probably the reason folk tales have evolved. You can gape long at it, but to be seduced? No, not really, she concludes.

By Hege Tunstad

Read about others "People from Poland"
Homepage of Barbara Matusiak