PEOPLE FROM POLAND
A Polish Don Quixote (18.10.06, 14:26)
He got an oscilloscope for his 18th birthday – at the time the highlight of his life. Arkadiusz Kulka is the gadget guy who disassembled his toys to figure out how they worked. Now toys have been replaced with windmills.
There is a saying that the older the boy, the more expensive the toy. This PhD student works with power electronics, making sure that the energy produced by windmills is smoothly transformed into electricity for all of our appliances.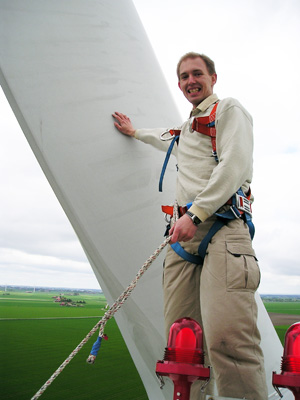 Not afraid of heights...

On top of the world
Standing at the top of a windmill is only part of the job, but what a job! If these enemies of Don Quixote are to produce a steady flow of electricity for all of us, then Arkadiusz will have to finish his work on the inverter first – the gadget that transforms DC to AC for the electrical power grid.

Every toy a wonder
Any technical gadget or new electric toy made him wonder. Little Arkadiusz could not restrain his curiosity. He had to see for himself, so he opened his toys. Disassembled them, picked them to pieces, and sometimes managed to put the pieces back into place.

Most of his toys did not survive, but the curiosity did.

- Were your parents happy about this?

- Oh, no, they had a hard time trying to protect me from my ideas. I hadn't a clue as to how dangerous electric power could be.

Luckily, his parents managed to keep him out of danger, and put him in a high school that specialized in knowledge about electricity. To Arkadiusz, this was like being sent to heaven. - All those possibilities! I was so impressed. It was just like being sent directly to paradise. And the knowledge!

Sleepless adolescent nights
Days were enjoyed at school, and nights spent awake. His adolescent years shaped his character and contributed to pinpointing his know-how.

- In high school, I was hooked on radios. I had an amateur licence and a membership in the local radio club. Evenings were spent communicating over the radio with friends.

- When I wasn't operating the radio, I was glued to my first pc. This was in the years before Windows, so I had to figure out how to program in DOS. I spent many sleepless nights typing codes until I mastered that art.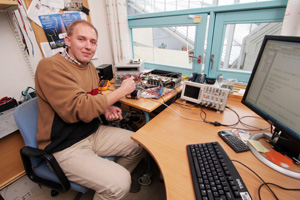 - I was glued to my first pc...

The straight and narrow
His path was always well lit, as one might imagine with someone as keen as he on the workings of electrons in movement. He graduated form Warsaw University of Technology three years ago, specializing in automatics and computer engineering, but managed to develop a taste for Scandinavia during his last semester.

- I went to Chalmers in Gothenburg to write my thesis. It was on control of wind turbines. I got a taste for Sweden. Now I was anxious to figure out my next step, and found a vacant PhD position at NTNU. I considered it, but the thought of moving another 800 kilometres north weighed heavy on my shoulders.

Weather brought him to Trondheim
Fortunately, there was a conference in Trondheim taking place at the same time as Arkadiusz had to make up his mind. He attended the conference, and got to know the city.

- The weather was really nice then, and the city wasn't so bad despite the northern location, so I decided to apply for the vacancy anyway. I have been here ever since.

- I was a bit lucky in the beginning as well. A friend of mine left for USA, so I got to have his apartment my whole first year here. And we have a really great consultant at our Department of Electric Power Engineering, who helped me arrange all the details with the tax office and the Directorate of Immigration.

- Has the city grown on you? Do you feel at home here?

- Well, yes, but it took a while before I got to know the places. After two months I discovered "Idrettsbygget" (ed. note: the University sports centre), thank goodness. Trondheim is a very quiet place, and sometimes I feel the need to get some fresh energy somehow to be optimistic and smiling.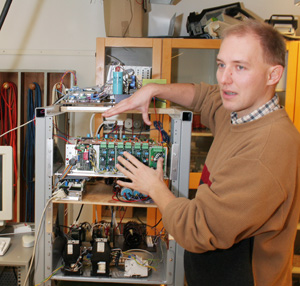 Not easy to get a date with Norwegian girls...
"I am the bridge"
- What about girls? And friends? Do you find time for a social life?
- There was a girl, but not any more. Distance is not that easy.
- There's little time for relationships. My thesis is quite demanding and time consuming. Anyway, Norwegian girls are not that easy to get a date with. I'm often making dinner at my place, inviting my friends. We cook together, and just enjoy spending time in each other's company. Most of my friends are foreign. Based on my observation, this is normal. Just take a look at Moholt student village. Foreigners stick together, and the Norwegians seem to be leading a separate life. Not as a rule, but by habit.
- Now I live with a Norwegian fifth year marine engineering student. We share a big house, have a good time going out and so on. Often when we throw a party, I invite my foreign friends and my flatmate invites his Norwegian friends. This way I try to integrate them a bit. I'm like a bridge between the Norwegians and the others.
Sleepy Saturdays in the ski season
- Have you been to town on a Saturday morning? It's completely quiet! The streets are almost empty. And now when the mornings are darker, the sun almost gone, it's not that easy to get up in the mornings.
- So you are no huge fan of the winter, then?
- Oh, well, I'm used to this kind of winter. I grew up with snowy winters and skiing. I brought my skis here, and use them whenever the weather permits. I prefer downhill, of course.
I suppose some students will agree.
- Back to the windmills, what exactly are you researching?
- Power electronics. You know there is a huge focus on renewable energy, and especially windmills, nowadays. This is all about how to efficiently harness the wind to produce electric power.
Focusing on renewable energy...

Taming nature's wildness
The power produced by wind varies greatly as the strength of the wind changes, and it is often in the form of DC (Direct Current). DC cannot directly enter the power system. The device between the generator and power grid is the power inverter (DC to AC or AC to AC.) International regulations describe the parameters of generated power, like voltage, the current's harmonic contents or frequency variation. Nature needs to be tamed to meet the standards.

- So what I'm doing is to create a C-plus program for the microprocessor which controls the inverter of the wind turbine, so that the output energy that goes into the public power grid is transformed perfectly into the standard of this system.

Photographic beauty
The camera is one of the many gadgets this man has fallen for. He is probably one of those few who really knows the function of all the buttons on his Canon 350D.

- Is it the camera or the scenery that intrigues you the most?

- My camera is only a tool. The scenery is the beauty which I want to capture and remember. Especially here in Norway, the nature is extraordinary, and the sunsets are even better.

- As they say at all job interviews: Where are you in five years?

- Probably somewhere in Europe or Poland, but no one can plan that far ahead/the future.

One thing we do know, is that for this Don Quixote, the place has to have windmills.

By Hege Tunstad